Algebra Calculator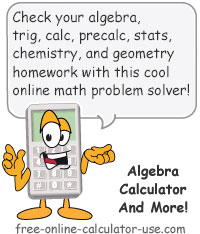 Problem Solved!
While researching the information needed to create an online algebra calculator for my site, I stumbled across an amazing math problem solver.
But even more amazing than the calculator itself, was when the creators offered to provide a miniature version of their calculator for free to my site's visitors.
Well, since I couldn't create a calculator anywhere close to the one I discovered, I decided to accept their offer instead of trying to build one myself.
At first I simply included a copy of the calculator on my existing math calculator pages. However, after several months of getting nothing but positive feedback, and finding it invaluable when helping my 15-year-old to do his math homework, I decided on July 4th, 2012 to give the calculator its very own page. Ta-Da!
Now you can bookmark and access this online problem solver directly anytime you need to check your (child's) work when solving basic math, algebra, pre-algebra, trigonometry, calculus, precalculus, or statistics equations.
Note that if you click the View Steps button that appears after clicking the Answer button you will be taken to the main site where you can get a free 7-day trial of the full version.
Try this cool Online Algebra Calculator powered by Mathway®
Online Algebra Calculator Help
Enter Problem: Enter the problem you want to solve in this area. You can either enter the math symbols from your keyboard directly, or you can click the applicable icon in the calculator menu to have the calculator insert the correct math symbols as needed.
Examples: To view examples showing how to enter the various types of equations, click the appropriate topic from the example menu.
Math Format: Click the Show button to preview the formatting of the entered problem.
Select topic: If the equation is entered correctly you should be offered one or more applicable topics in the drop-down menu. Select the appropriate topic and then click the Answer button. Clicking the View Steps button will take you to the main site where you can have 7-day free access to the full version of the math problem solver.
Help: To view a full help menu for the algebra calculator, click on the question mark icon located just beneath Enter Problem.
Calculate life-changing answers for your financial problems:
[ Return to Top of Calculator ] [ Return to Top of Page ]
+1 Free-Online-Calculator-Use.com
+1
Page
Site