Oct 22, 2016
Update: Two New Features Added to Paycheck Calculator!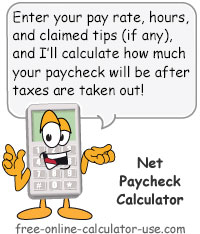 I have now updated this popular calculator to include two often requested features.
State Tax Rate Lookup Feature
The calculator now has a state drop-down menu on the State tax rate line.
So, instead of having to look up your state tax rate, you can now just select your state and have the calculator look up your state rate for you.
Plus, the calculator will even display your state's tax table along with your annualized gross pay!
Paycheck Breakdown Percentage Feature
In addition to the pie chart that displays the breakdown of your gross pay, each slice's title is now followed by the percentage it represents.
As always, please use the expandable feedback form beneath the calculator to let me know if you discover any issues and/or have any suggestions for improvements.
Thank you!
-Dan
P.S. The update was also added to the mobile version if you are accessing from a small-screen device, and to the Ad-Free Member Version if you wish to save your entries in between visits.
Continue reading "Update: Two New Features Added to Paycheck Calculator!"