Free Loan Amortization Calculator With Unknown Variable Calculation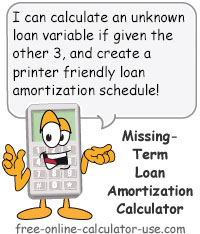 This online Free Loan Amortization Calculator will calculate the unknown variable from three known variables -- for all of the most common payment intervals.
Plus, unlike most other loan amortization calculators, the calculator on this page gives you the option to create and print a free loan amortization schedule.
If you are making a monthly payment and you're not interested in printing out any loan amortization tables, please visit the Missing Term Loan Calculator.
Read more ...