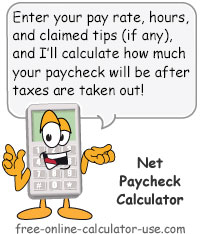 Paycheck Calculator
This net pay calculator will estimate your weekly, biweekly, semi-monthly, monthly, quarterly, semi-annual, or annual net take home pay after calculating your deductions and federal and state income tax withholding. Now includes a field for calculating and entering claimed tips, plus a printer friendly report button. The Learn section includes:
How to calculate your own net paycheck.
What is your hourly net pay and how can you increase it?
An eye-opening hourly net-pay calculator.
Learn More
Selected Data Record:
A Data Record is a set of calculator entries that are stored in your web browser's Local Storage. If a Data Record is currently selected in the "Data" tab, this line will list the name you gave to that data record. If no data record is selected, or you have no entries stored for this calculator, the line will display "None".
Data

Data record

Data record

Selected data record

:

None