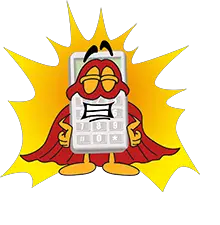 Support the new Ad-Free version and start enjoying these 6 bonuses today!
Save your calculator entries between visits.
Save your notes and ideas.
Protect your privacy.
Calculators resize to fit any screen.
Your own personalized dashboard.
Browse, read, print 132 financial articles from a single page.
Why The New Version?
I've always been grateful for the advertisers that have supported this website. They have allowed me to serve you free of charge, while still allowing me to earn a modest living performing the work I love.
However, I also realize that some of my calculator users find the ads annoying, and would prefer to use their favorite calculators in an ad-free environment.
Of course, I also know there is free software available for hiding the ads that appear on my site. This leaves little incentive for me to create an ad-free version, since visitors can hide the ads for free.
So I decided to create a separate Ad-Free version of the site, and then reward those who support it with extra features and benefits.
Ad-Free Introduction
In order to add all current and planned bonuses to the Ad-Free version, it was necessary to purchase a new domain name (web address) along with a more powerful web server.
As you can see, the Ad-Free version has its own web address and logo:

The the logo is meant to represent the following:
Familiar branding: calculator caricature and the slogan You provide the numbers, I provide the "Aha!" moments.
Treasure chest full of valuable tools and information.
Storage chest for your calculator entries.
Key (login) required.
Protection of your privacy.
Even the web address was designed to benefit those who choose to support the Ad-Free version:
free-online-calculator-use.com: 30 characters to type.
ahacalcs.com: Only 12 characters to type.
And while the Ad-Free version does include a login system, the system is set up to remember who you are on future visits. So you will likely only have to log-in one time.
The Benefits of Ad-Free
Contrary to my initial reaction, the growing popularity of ad-hiding software ended up being a blessing in disguise.
Why?
Because it motivated me to create a separate, customer-supported, Ad-Free version, which brought to light all of the benefits of getting rid of ads -- for myself, and for you.
For you, freedom from ads means:
Web pages load much faster.
No third party tracking of your online activity (how advertisers target you for specific ads).
No distractions from the task you came to complete.
No temptations to spend money you haven't budgeted for.
For me, freedom from ads means:
I was able to create the Ad-Free version without the strict constraints placed on me by advertiser ad-placement policies.
The upgraded server allows me to create tools and features that wouldn't be possible on the ad-supported site.
I automatically know who my most appreciative users are and can serve them accordingly.
I hope you will support the Ad-Free version for the Ad-Free benefits alone. If not, I have sweetened the pot with 6 bonus features (more in the works).
Use the numbered links on the left to see how you can benefit from each of the 6 bonus features you will get in exchange for your support for the Ad-Free version.
#1 Save Your Entries
All calculators on the Ad-Free version give you the option of saving your entries for the next time you visit.
Instead seeing this
on your next visit ...
You could see this:
This means ...
You won't have to re-type entries that rarely change between visits.
You can compare entries and results with previous visits.
You can simply update tracking-type calculators (timesheet, budget, loan, etc.) instead of having to start over on each visit.
Plus, if you choose the Cloud support level, you can even save multiple sets of entries for any calculator, as shown here.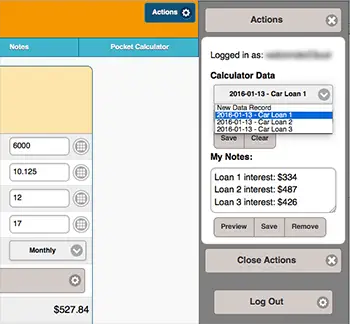 If you use any of the entry-intensive calculators on a regular basis, or have avoided using them due to the thought of having to re-enter all of your data each time you return, you're going to love the bonus "Save" feature that comes with the Ad-Free version.
#2 Save Notes and Ideas
Ever have an idea come to you that you later forgot because you failed to save it anywhere?
That happens to me all of the time!
In fact, while creating the Ad-Free version I found myself wishing I had ...
A place to store upgrade notes and feature ideas on each individual calculator page.
A place to view all saved notes and ideas on a single page.
So early on in the building process, I created a feature that does both.
However, after creating the feature for my own use I noticed I started storing personal notes and ideas as well. That's when I decided to include this feature for all those who support the Ad-Free version.
This means that all calculators on the Ad-Free version give you the option of saving notes and ideas that come to you while using any calculator, plus you can view all of your notes and ideas right on your personal dashboard.
#3 Your Own Dashboard
Another bonus you get with your support for the Ad-Free version is your own personalized dashboard (home page), which displays:
Quick links to all of your favorite calculators.
An interactive list of all of your saved notes and ideas.
A list of links to all calculators containing your stored entries.
A customizable list of all calculator sections you are subscribed to.
#4 Secure Connection
Are you comforted by seeing a green padlock icon when asked to enter personal information into a web form?
Me too!
That's why I went ahead an purchased a secure certificate subscription for the Ad-Free version.
This means that anytime your computer communicates with the Ad-Free version of the site, the communication is encrypted before being sent.
#5 Responsive Design
In addition to not being cluttered up by ads, the calculators in the Ad-Free version automatically resize to fit any device or orientation.
This means the calculators all look and work the same, regardless of what type of device you are accessing the Ad-Free version from (desktop, tablet, smartphone, etc.), as shown below.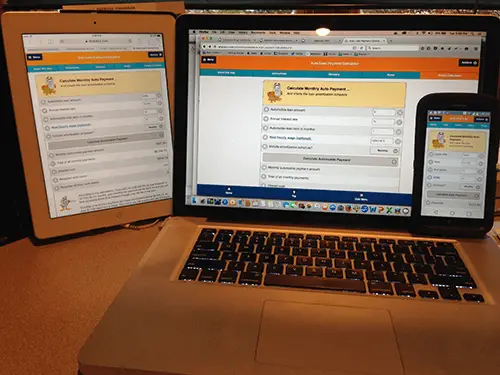 #6 Interactive Articles
If you've read the About Me page, you will know that a big part of the reason I built this website was to help others to avoid making the same financial mistakes I made. Mistakes that led to ...
Being Trapped By Debt In An Unfulfilling Work.
That's why most of the personal finance calculators on this website include short articles that highlight the various concepts and revelations that helped me to transition to being free to work at what I love.
Take it from someone who used these ideas to create a life of my own design, the value of becoming aware of these concepts and revelations can be priceless!
Of course, finding and recalling articles that appeal to you and your situation on this website can be a time-consuming proposition. And trying to print them with all of the ads and site navigation only adds to the problem.
So, as yet another bonus to supporting the Ad-Free version, I have included a feature that allows you to browse, read, and print any of the 132 financial articles ... all from a single, interactive page!
Two Support Levels
The Ad-Free version currently comes in two support levels, Basic and Cloud. The only real difference between the two levels is the data storage method used.
Basic Support Level
When it comes to storing calculator entries, notes, and favorites, the Basic Level stores these items within the web browser you use to access the Ad-Free version with.
But since web browser storage (HTML5 Local Storage) is a relatively new web browser feature, you will need the latest version of your web browser software (Firefox, Safari, Chrome, Edge, etc.) in order to use the Basic "save" feature.
The limitations of the Basic Level entry storage are:
Only 1 set of entries for each calculator can be stored (new saved entries overwrite past saved entries).
Saved entries can only be loaded from the same device and web browser you used to save them.
Most web browsers limit the total storage to 5 megabytes.
Saved entries will be lost if you change web browsers or devices.
Cloud Support Level
As the name implies, the Cloud support level saves your calculator entries, notes, and favorites to a secure database located on the Ad-Free web server.
For you, this means:
Multiples set of entries for each calculator can be stored.
Saved entries can be accessed from any device or web browser.
No storage limit.
Saved entries won't be lost if you change web browsers or devices.
Here is how the Action Panel varies between the two support levels:
| Basic Action Panel | Cloud Action Panel |
| --- | --- |
| | |
The only reason I ask for more support with the Cloud Level, is because the web-server database creation and maintenance is far more costly and labor intensive than simply storing entries to your device.
Ad-Free Calculator Demo
Since the Ad-Free version is built using the latest web browser features (HTML5 and CSS3) you will want to make sure your web browser software (Safari, Chrome, Firefox, Internet Explorer) is the latest version.
Click the following button to open the demo in a separate window so you can determine if your web browser software is compatible with the Ad-Free version.
Basic Vs. Cloud
The following interactive chart compares the Basic and Cloud support levels:
Features
Basic Level
Cloud Level
232 Ad-Free calculators
✓
✓
Save entries between visits
✓
✓
Save notes and ideas
✓
✓
Secure
✓
✓
Calculators resize to fit screen
✓
✓
Your own dashboard
✓
✓
Interactive articles
✓
✓
Data storage method
Device
Database
Savable entry sets per calculator
1
Unlimited
Data storage limit
5 Megabytes
Unlimited
Access cost and interval
*$6.97 annually
*$12.97 annually
30-day money back guarantee
✓
✓
* Subscriber prices listed are early bird rates and will increase for first-time subscribers once the number has grown to an optimal size.
**GET BONUSES HERE**
If you want to be sure to lock in the early bird rates, be sure to sign up for the Ad-Free version today.
Click the following button to start your no risk trial.
Remember, if you're not satisfied for any reason, you can cancel any time within the first 30 days and I will refund 100% of the price you paid to support the Ad-Free version.
Win A Free Year
I need your honest feedback and suggestions to determine the bonus features and pricing structure that would encourage more visitors to support the Ad-Free version.
In return for filling out the Ad-Free version survey, I will enter your email address into a monthly drawing for 1 year of free access to the Ad-Free support level of the winner's choice (Basic or Cloud). And don't worry, if you sign up for the Ad-Free version today and end up winning this month's drawing, your support fee will be refunded (or used to purchase an additional year, if you prefer).
Each month the winner will be notified by email and their name announced in the monthly "What's New" update. So be sure to include a valid email address, and check the box to subscribe to the update. As always, I will not share your email with anyone for any reason.
Ad-Supported Version?
If you don't mind the ads and simply wish to continue to use the ad-supported version (free-online-calculator-use.com), rest assured, I plan to continue to grow and maintain the ad-supported version just like I always have.
But I'll also be working hard to improve the Ad-Free version to make it even more valuable than it already is.
To your success!
Dan Peterson
P.S. Remember, you have nothing to lose. You can sign up today, use the Ad-Free version for 30 days, and receive a full refund if you're not satisfied.
P.P.S. I encourage you to lock-in the early bird rates rate today so you can enjoy future bonuses at discount prices.