Add Multiple Feet and Inches Calculator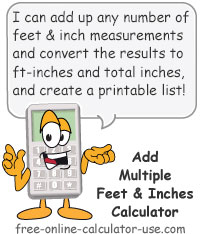 This calculator will add up any number of feet and inches measurements, including fractions of an inch, and give the results in decimal and tape measurement formats (rounded to your desired fraction of an inch).
Plus, the calculator will convert feet and inches to total inches, show step-by-step how to add the measurements without a calculator and provide a printable list of the entered measurements.
If you would like to subtract, multiply, or divide feet and inches, please visit the Carpenter Fraction Calculator.
Read more ...