Hi, my name is Dan Peterson, and I am the owner and author of Free-Online-Calculator-Use.com.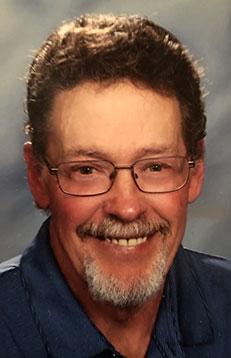 I have been creating calculators for websites since 1997, all of which are based on widely-accepted formulas or formulas provided by experts in their respective fields.
I started out creating and licensing calculators for other websites, hundreds of which are still hosting calculators I created years ago. My most notable customers included ING, Caterpillar, DebtProofLiving.com, and FinancialMentor.com.
Later, in 2010, I switched to creating calculators for my consumer-focused website, free-online-calculator-use.com. I've since created 253 calculators for this website, which get used by millions of people every year.
While I have completed Algebra I and II, Accounting I, II, and III, Managerial Accounting, and Business Statistics at Bemidji State University, and have over 30 years of business ownership experience, I don't claim to be an expert in any of the subjects the calculators cover (my expertise is programming online calculators based on known and widely accepted formulas).
However, I do thoroughly research each calculator's underlying formulas and equations before making them, and then test them to make sure the results match those of many offline and online calculator resources.
Unlike the calculators that I created for other websites, the financial calculators on free-online-calculator-use.com alert consumers to the hidden consequences of spending and borrowing. I don't tell users how to manage their finances; I only provide them with the negative consequences left out of sales presentations so they can make more informed decisions on their own.
In February of 2019, one of my financial calculators (the Mortgage Recast Calculator) was even referenced in the Wall Street Journal.
On a more personal level, I was born, raised, and currently reside in Bemidji, Minnesota -- where summers are often described as "three months of bad snowmobiling."
It's a great place to raise a family and has a low cost of living, but living-wage jobs are scarce, and the winters are long and bitter cold.
Not the ideal place for a couple who loves to play golf, but we could never imagine moving away from all of our family and friends.
That's why it's important we continue to live debt-free, and below our means, so we can afford to get away for our annual 10-day winter golfing (and romance rekindling) trip to Cozumel, Mexico. We consider the trip to be paid for by the interest charges we no longer pay to lenders.
In our opinion there is no better place in the tropics to stay and play golf in the winter than the Playa Azul Hotel -- one of the founding hotels of the Jack Nicklaus designed Cozumel Country Club.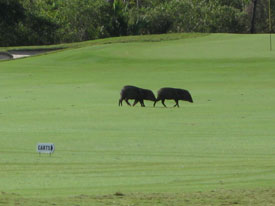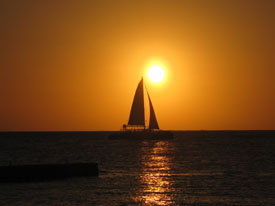 One of our other favorite winter activities was watching our two youngest sons play ice hockey. I say "was," because all of our eight children are now out on their own. So we're hoping one or more of our 11 grandchildren will take up the sport to help make the winters more enjoyable.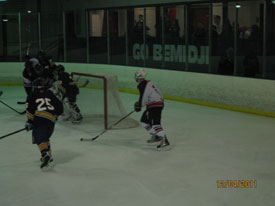 We also enjoy cheering for the Minnesota Vikings, the Minnesota Wild, and our hometown high school and college hockey and football teams.
During the summer, we try to get out to the golf course as often as we can in between work and our grandkids' baseball and soccer games. Thankfully I built the website and run the golf league for a local golf club in exchange for an annual family membership, so our favorite hobby is far from being cost-prohibitive.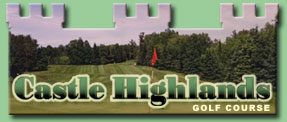 I even built a 30-yard by 200-yard golf practice range right next to the house -- complete with a tee box and a raised target green, which is where I spend my lunch breaks in the summer.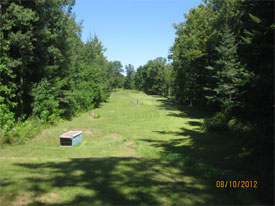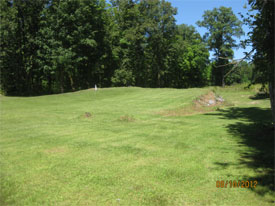 In the fall, I enjoy deer hunting with our family, as well as the annual process of building a backyard hockey rink for them to skate on.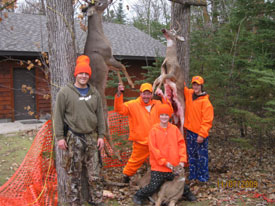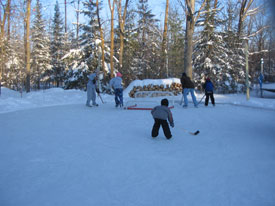 Finally, when it comes to working, I love creating javascript calculators for this website.
I'm also on a mission to try to convince others not to make the same mistake I made during the first half of my working life. What was the mistake?
Chasing after money instead of discovering and pursuing a work that is well-suited to my natural talents, genuine interests, personal values, and personality traits, and then learning to live within whatever means that work provides.
In my defense, I lived life exactly as I'd been taught. The mistake was never questioning what I was being taught.
My Story: How I Went From Work I Hated to a Work I Love
When I was just ten years old (1969), my mother bought me an 8" x 8", gray, spiral notebook to keep track of the money I was earning from my newspaper route.
Opening to the first page, she used a straight-edge to create five columns. Then, from left to right, she labeled the columns: Date, Description, In, Out, and Balance.
Mom then explained how to use the columns to keep track of how much money I made and where I spent it. I can vividly remember thinking, "Wow! What a cool and fun activity!"
And for the 23 years that followed, I enjoyed tracking my income and expenses more than generating them.
You see, upon leaving high school, I, like many others, chose to put money and income ahead of passion and creative self-expression. So instead of pursuing my passion for working with numbers, I pursued income.
The Money Chase
Believing more money was the key to more happiness, I took every job or business opportunity that came along if it promised to pay me more than my current job or business -- without giving a second thought to whether or not it was suited to who I am. These included:
Short Order Cook
Security Guard
Janitor
Limber on a Logging Crew
Mall Maintenance Chief
Funeral Insurance Salesman
Cleaning Business Owner
Restaurant Manager
Restaurant Owner
And of course, like most everyone else, I subsidized my never-enough income level by borrowing as much money as lenders would allow.
As a result, at age 30, I found myself trapped by financial obligations in a restaurant business I hated. I was working 80-hours a week in what I had thought was the business of keeping books and creating delicious meals, but instead turned out to be the business of hiring, training, and firing.
Three years later, after 5-years of 80-hour weeks, trying at least to build up equity I could later cash in, an Indian Gaming Casino -- complete with a loss-leader restaurant -- opened its doors just down the road. My restaurant business didn't stand a chance.
So there I was, 33-years-old, having spent 15-years chasing after wealth, and all I had to show for it was no income and a mountain of debt.
But the emotional losses from the restaurant failure paled in comparison to what happened in July of that year (1993). I held the hand of my beloved, 55-year-young mother as she lost her battle with ovarian cancer.
Kneeling next to Mom's bed, with tears clouding my vision of her face, holding her lifeless hand, it finally became painfully clear to me what was really important in life.
It wasn't money. It wasn't status symbols. It wasn't expensive homes, cars, clothing, furniture or vacations. It's the people that love and appreciate us for who we are, not for what we have or what we are poised to gain.
And now the most important person in the world to me, the person who had spent years trying to get me to take time off from my money-quest to spend more time with her, was gone forever.
It turns out the map I had been duped into following had led me away from happiness, not towards it.
A New Map and a Happier Life
Following my beloved mother's death, I spent several months searching for answers as to how I ended up broke and unhappy -- in spite of having read a library full of books written by business and personal finance experts.
After finally coming to the conclusion that my happiness depended on how much I enjoyed each hour of each day, and on serving the needs of others, I spent several weeks creating what I've come to call, the Blueprint for My Perfect Day.
This blueprint listed a daily schedule of what I refer to as Labors of Love (either labors I enjoy that cause others to love, appreciate, or admire me, or labors I engage in simply because I love the benefactor).
Once I completed the Blueprint for My Perfect Day, I set out to make it my day-to-day reality.
What followed was a 4-year, hard-fought journey to debt freedom and work that I love -- a work that I could schedule around the most important people and events in my life.
Of course, the work I discovered that I love doing is creating online calculators. So in 1997 I built www.webwinder.com to promote my calculator scripting services.
I started giving away my work for free, and then -- as demand for my ready-made and custom calculators grew -- I began to charge a fee. The higher the demand rose, the higher the fee I needed to charge to avoid having more clients than I could handle.
Eventually, I found myself earning a very nice living working from home -- free to schedule my work around all of the important people and events in my life. And for at least the first couple of years, I couldn't have been happier.
However, something began to happen that I never expected ...
The work I once loved started losing its appeal.
I can remember thinking, "What the heck happened?! I used to love creating online calculators, so what has changed?"
4 Steps to Turning a Work You Love Into ...
a Work You No Longer Love
After questioning the loss of passion for my work for some time, I eventually realized that four distinct things had changed. I now call them the four steps to falling out of love with the work you once loved.
Step #1: Give up creative self-expression. I was now creating more and more calculators based on customers' specifications instead of based on how I would have liked to create them.
Comparatively speaking, this is like asking an artist to paint by the numbers.
Step #2: Work with people who can't make up their minds. In the case of a large majority of the custom calculator projects I took on, the customer would keep changing their minds as to how they wanted the calculator to look and operate. This mind-changing often turned simple projects into long, drawn-out nightmares.
I began to understand better what an acquaintance of mine had told me a couple of years earlier. He told me that he had once enjoyed building houses but eventually lost interest due to customers constantly changing their minds about what they "wanted" -- while the home was being built. It was driving him nuts!
Then one day, he decided he wasn't going to let indecisive people rob him of what he loved doing. So what did he do? He started building houses based on how he liked to build them and then sold them as completed homes. Not only did he regain the passion he had lost, but he was making twice the money due to never having to make changes to original plans.
Step #3: Cause others to expect too much from you. Since I was charging a higher and higher fee, it became increasingly difficult to exceed the expectations of my customers -- an ever-increasing source of stress.
Step #4: Work for a cause you don't believe in. I found myself creating online calculators that went against everything I believed in.
Having experienced first-hand the financial and emotional devastation that can come from chasing after money and living beyond my means, creating calculators that promoted borrowing as a means to "easily" get what you want began to wear heavily on my conscience.
Add all of these changes up, and it's no wonder why I started to lose interest in creating online calculators.
Thankfully instead of trying to make a career change, I began to look for a way that I could continue to earn a living from creating online calculators -- while solving for the four issues that had squelched my passion for it.
Enter My Discovery of the Term, "Infoprenuer"
In April of 2010, while looking for a way to get back to the work I had once loved, I happened upon the term "infopreneur."
As it applies to the web, an infopreneur is someone who builds a content-rich website based on a profitable niche for which they are knowledgeable and/or passionate about, and then sells ad-space to advertisers who are interested in targeting that niche.
The more I thought about the concept, the more I realized that becoming an infopreneur would solve the four issues that had caused me to lose my passion for creating online calculators.
So, after 4-months of studying the art and science of infopreneurship, I launched the home page of free-online-calculator-use.com. That was nine years ago (as of the last update of this page), and I couldn't be happier with the results. Here's why?
I am now free to build online calculators using my own creative self-expression instead of having to "paint by the numbers."
The income generated from this website has allowed me to be very selective with the custom calculator projects I take on.
Since I don't charge visitors to use the calculators it's much easier to meet or exceed their expectations (zero stress).
I am now free to create online calculators so that they coincide with my personal values and beliefs (I sleep much better now).
I am now living the life I designed in the Blueprint for My Perfect Day, and it's everything I ever imagined it would be, and then some!
Added On May 13, 2014
In April of 2013, my beloved father was diagnosed with lung cancer. After a year-long battle, he passed away on Tuesday, May 6th, 2014, at the age of 75. We just laid him to rest yesterday (May 12th, 2014).
I don't tell you this to gain your sympathy.
Instead I wanted to share this to tell you that because I shifted from chasing after money to chasing after freedom from financial obligations, I was able to spend a significant amount of time with my father over the past several years -- including hundreds of hours in the last month of his life -- and was able to be by his side when he died.
I will miss my best friend for the rest of my life. But unlike when my mother passed away, I have no regrets or guilt concerning how much time I spent with him.
If you're not financially free to spend a significant amount of quality time with your loved ones, resolve now to get a handle on your finances. Learn how to live within your means and pay off your debts as quickly as possible.
No matter to what lengths expert marketers and lending institutions try to convince you otherwise, borrowing from tomorrow to "live better today" reduces the amount of time you will get to spend your loved ones. Don't do it!
Rest in peace Dad. I love you.
Want to Discover the Work You Love?
If you are looking forward to retirement instead of looking forward to every day of your life, I strongly encourage you to embark on your own journey to finding a work that you love.
Contrary to what you've been taught, you don't need a job; you need an income. And the more you become an investor of your time/money instead of just being a spender of your time/money; the less income your work will need to generate to achieve the financial freedom to do what you love.
No matter how unlikely it may seem, there are countless ways for you to earn an income from the work you love. You have to force yourself to take your blinders off so you can see what's been right beside you all along.
To help you to begin your journey to a earning a living from a work you love, I highly recommend Dan Miller's book, 48 Days to the Work You love.
It pains me to see so many people going through life hating their work and dreaming of the day they can retire from it -- thinking that's just how life is.
Take it from someone who knows the joy of earning a living from a work I love; nothing could be further from the truth.
Best wishes for your financial happiness!
Dan Peterson
P.S. I invite you to subscribe to the Ad-Free Member Version of my website.
P.P.S. If you enjoy writing and have a subject you are passionate about, you already have 50% of what you need to succeed as an infoprenuer. The other 50% comes from finding a website host that provides you with all of the tools, knowledge, and step-by-step instructions you need to create a content-rich, keyword-focused, traffic-generating website. I highly recommend Solo Build It! (SBI) (see My Review of SBI). Thanks to the tools and knowledge I gained from SBI, the traffic to free-online-calculator-use.com achieved the ranking of top .5% of all websites in the world -- after only 20-months!