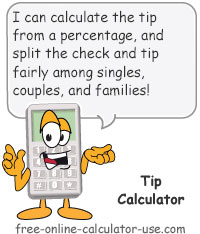 Tip Calculator
This gratuity calculator will not only calculate the tip and split the total among the parties paying separately, but it also includes an interactive feature for splitting the check and tip based on the relative size of each party. You can also round the check, tip, or total up or down as you see fit. The $ecret tab includes The hidden opportunity costs of dining out.
Learn More
Selected Data Record:
A Data Record is a set of calculator entries that are stored in your web browser's Local Storage. If a Data Record is currently selected in the "Data" tab, this line will list the name you gave to that data record. If no data record is selected, or you have no entries stored for this calculator, the line will display "None".
Data

Data record

Data record

Selected data record

:

None