Apr 01, 2018
New! Daily Interest Calculator for Tracking Promissory Notes and Personal Loans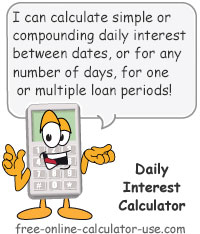 This calculator was created in response to a site visitor who was looking for an easier way to track the running balance of loans made to others in the form of promissory notes. Furthermore, the notes have no prescribed payment, accrue 10% simple interest on a daily basis -- based on a 360-day year, and borrowers randomly decrease (pay down) and increase (add to) the principal owed.
Wow! It's no wonder the visitor was looking for an easier way to keep track of who owes how much at any given time.
I'm hoping this new Daily Interest Loan Calculator will be useful to aforementioned visitor, as well as to others who are also trying to keep track of these types of promissory notes, personal loans, or owner-financed arrangements.
Specifically, this new calculator will allow you to:
Calculate daily interest between dates or for a specified number of days.
Choose between simple or compounding daily interest.
Choose to base the daily rate on a 360, 364, or 365 days per year.
Calculate interest and payoff for a single period, or create a printable running-balance schedule for multiple transaction periods.
Change the annual interest rate for any interest period.
And, if you print out the running balance schedule, start from where you left off on your next use of the calculator.
As always, please use the expandable feedback form beneath the calculator to let me know if you discover any issues and/or have any suggestions for improvements.
Happy Easter!
-Dan
P.S. The new calculator was also added to the mobile version if you are accessing from a small-screen device, and to the Ad-Free Member Version.
Continue reading "New! Daily Interest Calculator for Tracking Promissory Notes and Personal Loans"