Welcome to the Free Online Calculator Use blog page. Subscribing to this blog lets you know whenever a new calculator has been added to the site, or when an existing calculator has been updated or upgraded.
To subscribe to my calculator blog (no email necessary), right-click on the orange RSS button below, and then paste the URL into your RSS reader. Or, click on the Feedly or My Yahoo! button if you keep a personalized home page at one of those sites.
You can also be alerted to new and updated calculators by following me on either Facebook, Twitter, or Google Plus, or by subscribing to my Monthly What's New email update (subscription form in the right-hand column or below all calculators).
Sep 03, 2020
New! Price Per Square Foot Calculator
This 265th new calculator, the Price Per Square Foot Calculator in the Personal Finance section, will calculate the rent or price per square foot.
If you already know the rent or price per square foot, you can also use the calculator to calculate the price or rental payment from the per square foot value.
Plus, the calculator includes a built-in square footage calculator wherein you can calculate and total the square footage of any number of rooms, floors, and buildings. And you can enter width and length measurements in feet only, feet and inches, or inches only.
Here is a screen shot showing a how the built-in, expandible square footage calculator converts the width and length measurements to square feet and totals all square footages: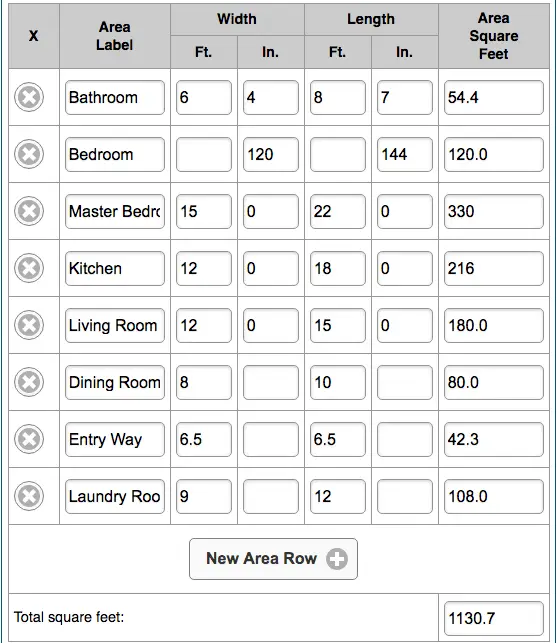 And finally, you can save or print your square footage entries for later use.
As always, please use the expandable feedback form beneath the calculator to let me know if you discover any issues and/or have any suggestions for improvements.
Thank you!
-Dan
P.S. The new calculator was also added to the Ad-Free Member Version.