Welcome to the Free Online Calculator Use blog page. Subscribing to this blog lets you know whenever a new calculator has been added to the site, or when an existing calculator has been updated or upgraded.
To subscribe to my calculator blog (no email necessary), right-click on the orange RSS button below, and then paste the URL into your RSS reader. Or, click on the Feedly or My Yahoo! button if you keep a personalized home page at one of those sites.
You can also be alerted to new and updated calculators by following me on either Facebook, Twitter, or Google Plus, or by subscribing to my Monthly What's New email update (subscription form in the right-hand column or below all calculators).
Oct 09, 2020
New! Ohms Volts Watts Amps Converter
This 266th new calculator, the Ohms Volts Watts Amps Converter in the Conversion Calculators section, will calculate any two of the four electrical values from the two entered.
Plus, each calculated result includes the Ohms Law formulas used, along with the step-by-step solution of the two equations.
So instead of needing to find and refer to an Ohms Law Formula Wheel for the appropriate formula, the converter makes the selections based on the two values you enter, and then solves the formulas -- all in the blink of an eye!
In case you're not familiar with it, here is the Ohms Law Pie Chart the Ohms Volts Watts Amps Converter is based on: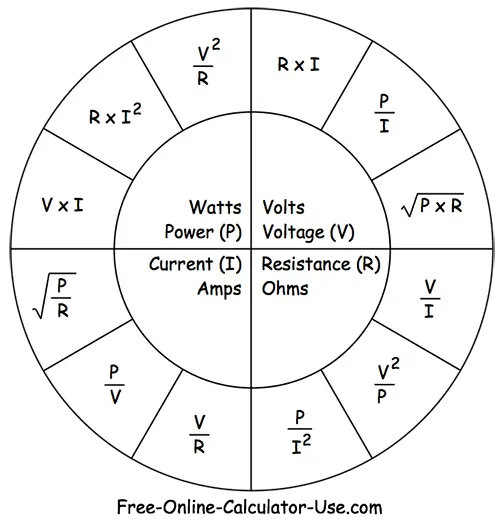 As always, please use the expandable feedback form beneath the calculator to let me know if you discover any issues and/or have any suggestions for improvements.
Thank you!
-Dan
P.S. The new calculator was also added to the Ad-Free Member Version.