Welcome to the Free Online Calculator Use blog page. Subscribing to this blog lets you know whenever a new calculator has been added to the site, or when an existing calculator has been updated or upgraded.
To subscribe to my calculator blog (no email necessary), right-click on the orange RSS button below, and then paste the URL into your RSS reader. Or, click on the Feedly or My Yahoo! button if you keep a personalized home page at one of those sites.
You can also be alerted to new and updated calculators by following me on either Facebook, Twitter, or Google Plus, or by subscribing to my Monthly What's New email update (subscription form in the right-hand column or below all calculators).
Nov 18, 2021
New! 30 60 90 Triangle Calculator
Yes, I'm Still Alive!
If you've been following this page, you have no doubt noticed it's been a while since I've posted any updates. In case you're interested, here's the story in a nutshell.
Wanting to downsize from our large home now that our eight children are grown and out on their own, we spent April and most of May readying our house for showings before putting it up for sale at the end of May. We marked the price up significantly from the realtor's comparable market analysis (CMA) to give us time to find a smaller home to purchase. Or so we thought. To our shock, our home received a full-price offer in 36-hours!
On such short notice, the only smaller home we could find in our desired area was an offer from friends to sell us a house they had been renting out. Unbeknownst to them, the renters had trashed the place to the point it was barely habitable. Only after we purchased the home did we discover that all of our local contractors were booked for the year. Consequently, I was forced to spend the last six months gutting and remodelling our new home.
I still have three rooms to go, but the main living areas are completed, which has freed up the time I needed to start getting back to the work I love. Whew!!
With that said, I am finally ready to announce a new calculator. This 283rd new calculator, the 30 60 90 Triangle Calculator in the Math section, will solve a special right triangle having interior angles of 30, 60, and 90 degrees given just one of the measurements.
Plus, the calculator will find the triangle's inradius and circumradius and show step-by-step how the other measurements are derived from the one provided.
Here is a screenshot showing an example of the calculated results.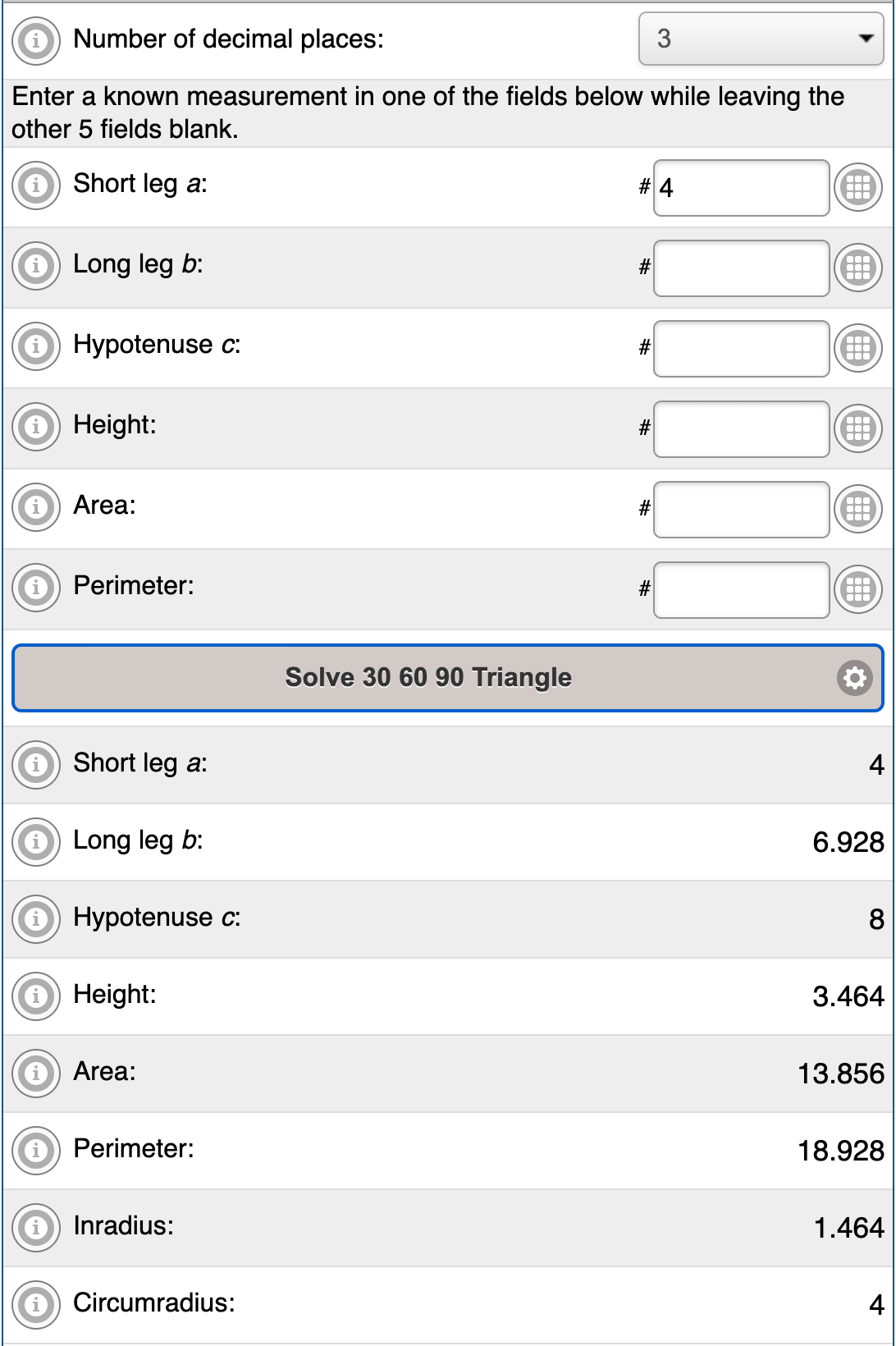 As always, please use the expandable feedback form beneath the calculator to let me know if you discover any issues and/or have any suggestions for improvements.
Happy Thanksgiving!
-Dan
P.S. The new calculator was also added to the Ad-Free Member Version.