Welcome to the Free Online Calculator Use blog page. Subscribing to this blog lets you know whenever a new calculator has been added to the site, or when an existing calculator has been updated or upgraded.
To subscribe to my calculator blog (no email necessary), right-click on the orange RSS button below, and then paste the URL into your RSS reader. Or, click on the Feedly or My Yahoo! button if you keep a personalized home page at one of those sites.
You can also be alerted to new and updated calculators by following me on either Facebook, Twitter, or Google Plus, or by subscribing to my Monthly What's New email update (subscription form in the right-hand column or below all calculators).
Feb 22, 2023
New! Bitcoin Satoshi Calculator
This 290th new calculator is the most important calculator I have ever created.
Why?
Because it forced me to learn:
What all-important problem Bitcoin was brilliantly designed to solve.
How Bitcoin works, which once understood, explains why it is the only cryptocurrency that meets all of the requirements of digital money.
How Bitcoin is giving property rights to some oppressed populations for the first time in their lives.
The generational wealth current Bitcoin owners could realize if it ever becomes the global reserve currency.
If you take the time to study the resources listed in the Learn section of the page, the Bitcoin Satoshi Calculator could be the most important online calculator you have ever visited.
From what I've learned, the question you need to ask yourself is: Will people in the future call you "lucky" because you took the time to learn about Bitcoin now, or will you call others "lucky" because they did take the time and you didn't?
Specifically, the Bitcoin Satoshi Calculator in the Investing section, will convert between bitcoin, satoshi, and US dollars.
Plus, since the calculator loads the current Bitcoin price from coingecko.com, you can enter a "what if" future price to see what your current or planned holdings would be worth at that future price.
Here is a screenshot showing an example of inputs and outputs.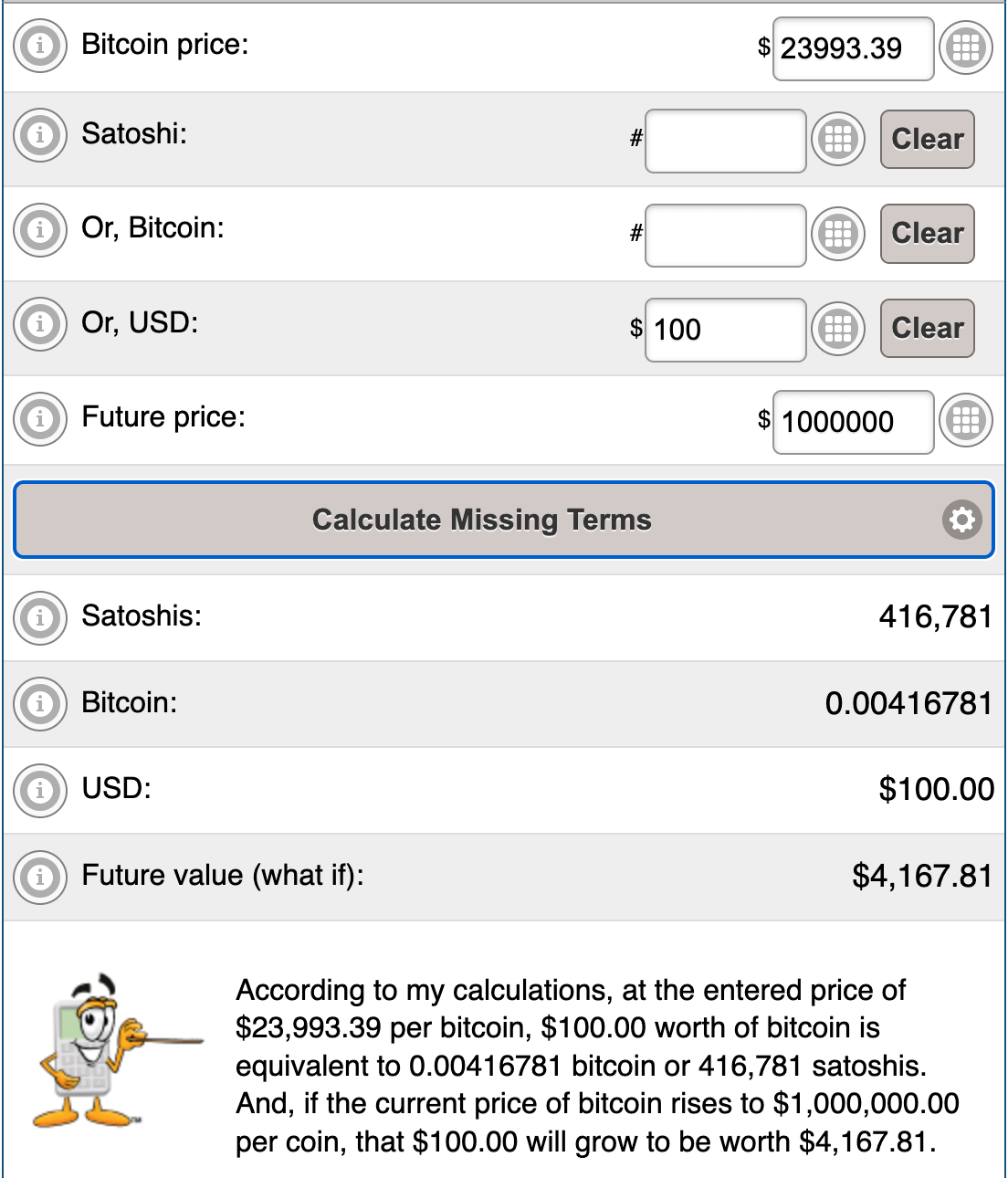 If you use my affiliate link (https://www.swanbitcoin.com/danpeterson) to set up an account with Swan Bitcoin, you will get $10 worth of bitcoin for free. Otherwise, type "swanbitcoin.com" into your web browser to start your journey to the future of money.
Please use the expandable feedback form beneath the calculator to let me know if you discover any issues or have any suggestions for improvements.
Stack sats and chill!
-Dan
P.S. The new calculator was also added to the Ad-Free Member Version.