Baluster Calculator: Generate Printable Diagram with Measurements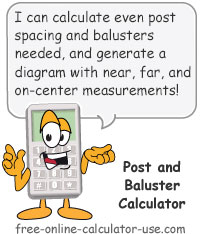 This post and baluster calculator will calculate the even spacing of posts, the number of balusters (or spindles) needed, and their inner and outer spacing.
Plus, the results include a printable diagram containing near-side, on-center, and far-side measurements for posts and balusters (metric, inches, or feet and inches).
If you would like to know your options for evenly spacing balusters between posts (end gaps same as inner gaps), please visit the Even Spacing Calculator.
Read more ...