Business Calculator and
Small Business Tool Collection
[ Skip to list of current calculators ]

Welcome to the Business Calculator section at free-online-calculator-use.com.
The calculators in this small business tool section are dedicated to helping you save time and money on otherwise time-consuming and expensive business tasks, as well as to introduce you to various small business ideas, tips and concepts I've gleaned from my own 30+ years of being in business for myself.
While the primary purpose of this online calculator section is to assist small business owners, the ultimate goal is to help unhappy business owners become happy business owners, and non-business owners to become business owners.
If you don't own your own business then not only are you missing out on the incredible tax benefits of owning your own business, but you may also be missing out on the pure joy that comes from earning a living through your own creative self-expression (as opposed to being a slave to an employer's creative self-expression).
Or, if you do own your own business but you're miserable working in it, you likely chose your business for the wrong reasons -- the most common of which is the pursuit of more money.
The Financial Profit Chase
I have been in business for myself for most of my adult life (I'm 52 as of this writing), but only recently discovered the secret to being happily self-employed (you can read my story here).
For years I chased after business opportunities that promised more money because I thought more money would lead to more happiness. But in almost all cases I ended up with less money and less happiness.
Eventually, through a process of trial an mostly error, I discovered I had been chasing after the wrong type of profits. I had chased after financial profits instead of chasing after emotional profits.
Financial Profit Vs Emotional Profit
Since you can quantify money, tracking financial revenues and expenses is easy. In turn this makes figuring financial profits and losses a relatively straight-forward process.
Unfortunately emotional revenues and expenses can't be quantified, so they never show up in start-up business plans or year-end reports. None-the-less, not only do they exist, but if left unchecked can leave you emotionally broke no matter how much money you are making.
You CAN Be Financially Rich but Emotionally Broke
Before I actually experienced it for myself, I had always thought it would be impossible to be miserable while earning a 6-figure annual income. If you don't believe it's possible, I suggest you park outside the Betty Ford Clinic and take careful note of who is getting in and out of limousines that pull up out front.
The bottom line is this, if the emotional revenues you get from your work or business fail to exceed the emotional expenses your work is generating, you end up with an emotional net-loss.
How to Choose the Right Business to Own
For me, the key to eventually becoming happily self-employed is when I began chasing after emotional profits rather than financial profits. And that meant changing my focus from making more money to making more happiness. In other words, I stopped making my business decisions based on how much money I could make, and I started making them based on the following criteria:
Will I enjoy the work?

Am I naturally and genuinely interested in the field I'll be working in?

Do I believe in the mission of the business?

Will my work cause others more good than harm?

Will I still be able to put my family's needs ahead of my business time commitments?

If I had all the money I could ever spend, would I engage in this work without pay?
If I cannot honestly answer "yes" to all of the above questions, then I know from experience that any emotional revenues I receive from any financial gain will be diminished or wiped out by the emotional losses stemming from the questions I answered "no" to.
As evidenced by the existence of this page, the decision to start free-online-calculator-use.com met all of the criterion with flying colors.
Of course, choosing the right small business to start is only half of the "happily self-employed" equation. The other half is learning to live within whatever means that business provides. Because the more lavish and more leveraged your lifestyle, the less freedom you will have to run your business in a way that makes you the happiest.
Below are the online small business tools currently contained in the business calculator collection, all of which are dedicated to helping you to save your business time and money.
Current Calculators in Business Calculator Collection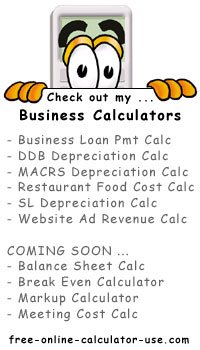 Business Loan Payment Calculator with Eye-Opening Sales Revenue Feature
This free online small business calculator will calculate the periodic payment needed to repay the principal and interest of a small business loan -- within the desired time frame and at the preferred payment interval. Plus, this small business loan calculator will even estimate how much sales revenue your business will need to generate in order to repay the loan's principal and interest. The page also includes 3 Important Small Business Lessons that I have learned during my 30+ years of owning my own businesses.
Restaurant Food Cost Calculator for Portion and Menu Costing
This free online restaurant food cost calculator will help you to quickly and easily break down bulk food purchase costs into portion costs, and then calculates the food cost percentage for you. You can either use the calculator to cost a single inventory purchase, or to price a recipe or menu item. Includes a "Food Cost Percentage Formula" tutorial.
Self-Employment Tax Calculator
This free online small business calculator will estimate your medicare and social security taxes from the profits you expect to generate from your business. The calculator includes a built-in tool for annualizing non-annual profit figures, and includes a completed Self-Employment Tax and Deduction Worksheet in the results. The page also gives brief answers to "What is Self-Employment Tax?" and "What is the Self-Employment Tax Rate?"
Depreciation Calculators
Double Declining Balance Calculator with Printable Schedule
This free online business calculator will help you to instantly calculate the double declining depreciation rate and expense amount for a given tax year. Includes an option for including a year-by-year depreciation schedule in the results, as well as a button to open the schedule in a printer friendly window. Includes a step-by-step example showing "How to Calculate Double Declining Balance Depreciation."
MACRS Depreciation Calculator Based On IRS Publication 946
This free online calculator will calculate a property's depreciation rate and expense for a given tax year based on Chapter 4 of IRS Pub 946. Includes a brief answer to "What is MACRS?" and a step-by-step example showing "How to Calculate MACRS Depreciation." Also includes an option for creating and printing a property's MACRS depreciation schedule.
Straight Line Depreciation Calculator with Printable Schedule
This free online business calculator will help you to quickly calculate a depreciable asset's first, final, and interim expense amounts using the straight line depreciation method. Includes an option for including a depreciation schedule in the results, as well as a button to open the schedule in a printer friendly window. Also includes a brief answer to "What is Depreciation?" and a step-by-step example showing "How to Calculate Straight Line Depreciation."
Online Business Calculators
Website Advertising Revenue Calculator to Estimate Traffic and Ad Revenues
Whether you have no site, an existing site without ads, or an existing site with ads, this free online ad revenues calculator will help you to estimate the traffic or pages/posts your website or blog might need in order to achieve your advertising revenue goal. The calculator can forecast traffic from eCPM or RPM estimates, and includes an option to print out the month-to-month traffic and revenue forecast. Page includes the formula for estimating traffic needs, plus answers to "What is the Online Advertising Revenue Model?" and "How Do You Earn Money From the Ads?" Plus, learn How I Tripled My Ad Revenues!
Future Calculators Planned for the Business Calculator Collection
The following is a list of calculators that I plan to add to this section as I have time. I'm basically adding business calculators to free-online-calculator-use.com in the order from highest demand to lowest demand, so if you see any calculator in the following list you want me to put on the high priority list, please let me know. Or, if you desire a business calculator that is not on the list of planned calculators, please let me know so I can add it to my list.
Balance Sheet Calculator
Break Even Calculator
Markup Calculator
Meeting Cost Calculator with Built-in Meeting Timer
[ Return to Top of Page ]

Home > Business Calculators
+1 Free-Online-Calculator-Use.com
+1
Page
Site