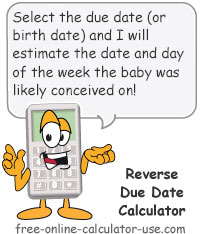 Reverse Due Date Calculator
This extremely popular conception date calculator will calculate what date and day of the week your baby was conceived on based on your pregnancy due date, ultrasound weeks and days, or the 1st day of your last menstrual period (LMP). Also includes estimated dates for the range of days the pregnancy-causing "event" likely occurred within. Plus, you can also select any birth date -- meaning you can use the calculator to answer questions such as ...
When was I conceived?
When did I conceive my baby?
When to get pregnant to have a baby in April (or any other month)?
The Learn section includes:
How to calculate conception date (Conception Calendar Calculator).
How to plan baby birth date (Birth Month Conception Range Chart).
Learn More
Selected Data Record:
A Data Record is a set of calculator entries that are stored in your web browser's Local Storage. If a Data Record is currently selected in the "Data" tab, this line will list the name you gave to that data record. If no data record is selected, or you have no entries stored for this calculator, the line will display "None".
Data

Data record

Data record

Selected data record

:

None
Get the App!
$0.99, iPhone or Android.