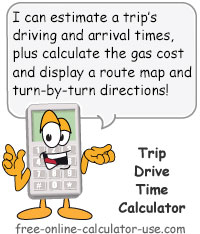 Drive Time Calculator
This driving times calculator will calculate the number of hours and minutes it will take to drive a given number of miles at a given speed. The calculator also includes an optional Distance Calculator, and options for including stop times, time zone changes, and fuel cost calculations. Plus, the calculator will even calculate your estimated date and time of arrival. Results also include a comparison chart showing how much time you will lose or save by driving slower or faster.
Learn More
Selected Data Record:
A Data Record is a set of calculator entries that are stored in your web browser's Local Storage. If a Data Record is currently selected in the "Data" tab, this line will list the name you gave to that data record. If no data record is selected, or you have no entries stored for this calculator, the line will display "None".
Data

Data record

Data record

Selected data record

:

None
Get the App!
$1.99, iPhone or Android.