Drive Time Calculator to Calculate Driving Times, Trip Distances, ETAs, and More!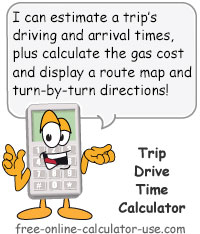 This free online Driving Times Calculator will calculate the number of hours and minutes it will take you to arrive at your destination based on the number of miles or kilometers you plan to drive, combined with the average speed (MPH or KMH) you expect to drive and the number and lengths of stops you expect to make.
The calculator also includes an optional Driving Distance Calculator that will calculate the distance between two cities, addresses, or points, plus map your route and give you turn-by-turn directions.
And finally, this car and truck driving time calculator will estimate your fuel costs, tell you what date and time you will arrive at your destination -- including any time zone variations, plus show you what effect driving faster or slower will have on your arrival time.
Read more ...
Also on the page: