Drive Time Calculator to Calculate Driving Times, Trip Distances, ETAs, and More!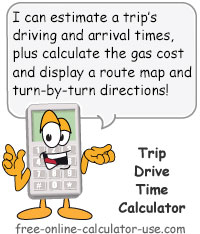 This free online Driving Times Calculator will calculate the number of hours and minutes it will take you to arrive at your destination based on the number of miles or kilometers you plan to drive, combined with the average speed (MPH or KMH) you expect to drive and the number and lengths of stops you expect to make.
The calculator also includes an optional Driving Distance Calculator that will calculate the distance between two cities, addresses, or points, plus map your route and give you turn-by-turn directions.
And finally, this car and truck driving time calculator will estimate your fuel costs, tell you what date and time you will arrive at your destination -- including any time zone variations, plus show you what effect driving faster or slower will have on your arrival time.
Also on the page:
Drive Time Calculator
Calculate distance, driving times, ETA, and trip fuel-costs based on average speed and optional stops and time zones.
Learn More
Selected Data Record:
A Data Record is a set of calculator entries that are stored in your web browser's Local Storage. If a Data Record is currently selected in the "Data" tab, this line will list the name you gave to that data record. If no data record is selected, or you have no entries stored for this calculator, the line will display "None".
Data

Data record

Data record

Selected data record

:

None
Get the App!
$1.99, iPhone or Android.
Bonuses
What time to leave calculator and a driving hours calculator.
What Time Do I Have To Leave To Get There On Time?
Once you have used the travel time calculator on this page to get the hours and minutes of your journey, use the following calculator to estimate what time you will have to leave by to get to your destination by a specified time and date.
Note that for every hour you expect to encounter metropolitan rush hour traffic (6am to 10pm or 4pm to 8pm), you may want to add at least 1 hour to your drive time.
Actual Drive Time Calculator
Use the following calculator to total up your actual driving hours for your trip. You can enter start and stop times using am and pm or using military time (leave am/pm blank), or you can enter just the hours and minutes for each segment between stops.
If you have any suggestions for other bonus calculators for this page, please let me know using the expandable feedback form beneath the Drive Time Calculator.