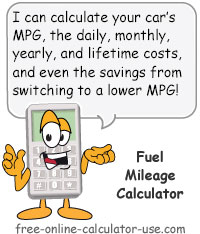 Fuel Mileage Calculator
This calculator will calculate your vehicle's MPG and its associated daily, monthly, annual, and lifetime gas expenses, plus allows you to compare your car's gas mileage expenses against higher MPG ratings to see how much you will save if you switch to a car that gets better fuel economy. The Learn tab includes:
Why the price of gas is NOT to blame for high fuel costs.
How to calculate miles per gallon manually (MPG formula).
Learn More
Selected Data Record:
A Data Record is a set of calculator entries that are stored in your web browser's Local Storage. If a Data Record is currently selected in the "Data" tab, this line will list the name you gave to that data record. If no data record is selected, or you have no entries stored for this calculator, the line will display "None".
Data

Data record

Data record

Selected data record

:

None