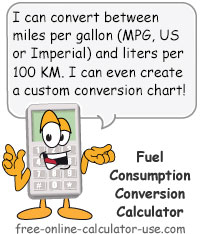 Fuel Consumption Conversion Calculator
This calculator will convert between miles per gallon (US or Imperial) and liters (or litres) per 100 kilometers. The calculator not only shows its work, but also includes an option for creating a custom fuel conversion chart that you can print out and take with you when shopping for a car. The Learn tab includes:
Most popular fuel conversion formulas.
Step-by-step examples showing how to make the conversions manually.
Learn More
Selected Data Record:
A Data Record is a set of calculator entries that are stored in your web browser's Local Storage. If a Data Record is currently selected in the "Data" tab, this line will list the name you gave to that data record. If no data record is selected, or you have no entries stored for this calculator, the line will display "None".
Data

Data record

Data record

Selected data record

:

None