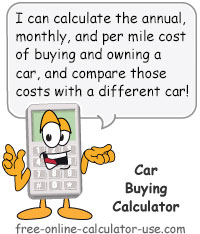 Car Buying Calculator
This calculator will calculate the annual, monthly, and per mile cost to buy and own an automobile. A second column of entry fields allows you to perform side-by-side car buying comparisons, or to see how changes to one cost element effects the overall cost of buying and owning. Results include a printable Purchase and Ownership Cost Report that you can print out and use for comparing with any number of other car buying alternative. The $ecret tab includes:
The price tag is only the tip of the car cost iceberg.
Ownership cost meter needed.
The more you own ...
Learn More
Selected Data Record:
A Data Record is a set of calculator entries that are stored in your web browser's Local Storage. If a Data Record is currently selected in the "Data" tab, this line will list the name you gave to that data record. If no data record is selected, or you have no entries stored for this calculator, the line will display "None".
Data

Data record

Data record

Selected data record

:

None