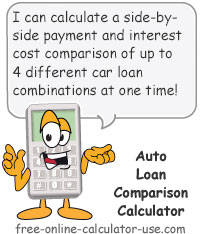 Auto Loan Comparison Calculator
This calculator will calculate and compare the monthly payment and interest costs of up to 10 different rate and term combinations. Results include a side-by-side car loan comparison chart, an interest cost comparison graph, and a button for creating a printer friendly report. The Quiz tab includes:
Thought-provoking, interactive interest charge quiz.
Three methods for reducing finance costs.
Learn More
Selected Data Record:
A Data Record is a set of calculator entries that are stored in your web browser's Local Storage. If a Data Record is currently selected in the "Data" tab, this line will list the name you gave to that data record. If no data record is selected, or you have no entries stored for this calculator, the line will display "None".
Data

Data record

Data record

Selected data record

:

None