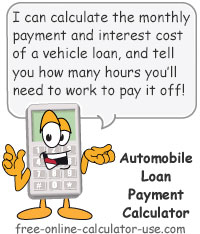 Auto Loan Payment Calculator
This calculator will calculate the monthly payment and interest cost of an auto loan. Plus, unlike other auto loan payment calculators, this one will tell you how many hours you will need to work to pay all of the principal and interest payments. Also includes a printable amortization schedule. The Notes tab includes:
Auto financing does not preserve cash reserves.
Become your own auto finance company.
Learn More
Selected Data Record:
A Data Record is a set of calculator entries that are stored in your web browser's Local Storage. If a Data Record is currently selected in the "Data" tab, this line will list the name you gave to that data record. If no data record is selected, or you have no entries stored for this calculator, the line will display "None".
Data

Data record

Data record

Selected data record

:

None