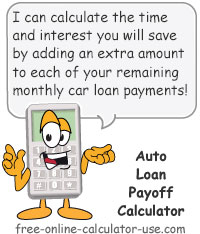 Auto Loan Payoff Calculator
This calculator will calculate the time and money savings that will occur if you pay off your car loan early, by adding a prepayment amount to all of your remaining car payments. The Learn tab includes:
Back to the future: a thought provoking analogy.
Mindless habits destroying future photographs.
Make today be a contributor from your past.
Learn More
Selected Data Record:
A Data Record is a set of calculator entries that are stored in your web browser's Local Storage. If a Data Record is currently selected in the "Data" tab, this line will list the name you gave to that data record. If no data record is selected, or you have no entries stored for this calculator, the line will display "None".
Data

Data record

Data record

Selected data record

:

None