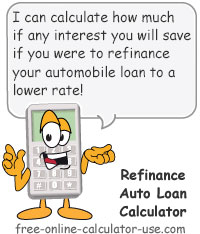 Refinance Auto Loan Calculator
This calculator will help you to decide whether or not you will save money by refinancing your car loan at a lower interest rate. Results include a line-by-line comparison of both scenarios and a bar graph that provides a visual representation of the cost comparison. The $ecret tab includes:
How a smaller payment may actually end up costing you money, not saving you money.
Learn More
Selected Data Record:
A Data Record is a set of calculator entries that are stored in your web browser's Local Storage. If a Data Record is currently selected in the "Data" tab, this line will list the name you gave to that data record. If no data record is selected, or you have no entries stored for this calculator, the line will display "None".
Data

Data record

Data record

Selected data record

:

None