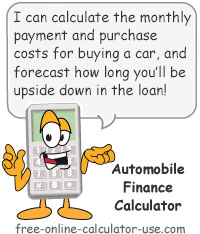 Automobile Finance Calculator
This calculator will calculate the monthly payment and total purchase costs of buying a new car, which includes accounting for sales tax, trade-in allowance, down payment, and upfront financing costs. Includes a printable loan amortization schedule that denotes periods of being upside down in the loan. The Learn tab includes:
What are Upside Down car loans and what causes them?
A car buying reality check that could save you a fortune.
Learn More
Selected Data Record:
A Data Record is a set of calculator entries that are stored in your web browser's Local Storage. If a Data Record is currently selected in the "Data" tab, this line will list the name you gave to that data record. If no data record is selected, or you have no entries stored for this calculator, the line will display "None".
Data

Data record

Data record

Selected data record

:

None