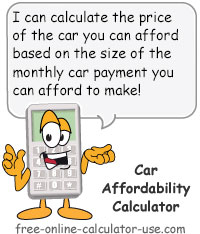 Car Affordability Calculator
This calculator will calculate how much car you can afford based on the size of the monthly payment that you feel will be affordable. Includes optional adjustments for down payment, trade-in allowance, and sales tax, plus an optional monthly amortization schedule. The $ecret tab includes:
Are you bungee jumping with a cord that's too long?
How to REALLY know how much car you can afford.
Learn More
Selected Data Record:
A Data Record is a set of calculator entries that are stored in your web browser's Local Storage. If a Data Record is currently selected in the "Data" tab, this line will list the name you gave to that data record. If no data record is selected, or you have no entries stored for this calculator, the line will display "None".
Data

Data record

Data record

Selected data record

:

None