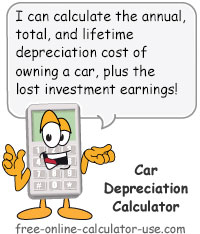 Car Depreciation Calculator
Calculate the annual, total, and lifetime depreciation costs of owning a vehicle. The $ecret tab includes an explanation of what depreciation is and why your understanding of how it accumulates is critical to preserving your potential future wealth.
Learn More
Selected Data Record:
A Data Record is a set of calculator entries that are stored in your web browser's Local Storage. If a Data Record is currently selected in the "Data" tab, this line will list the name you gave to that data record. If no data record is selected, or you have no entries stored for this calculator, the line will display "None".
Data

Data record

Data record

Selected data record

:

None