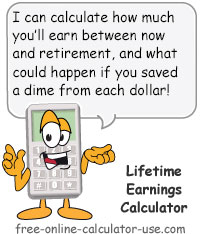 Lifetime Earnings Calculator
This calculator will calculate how much money you or your household will earn between now and when you retire based on your present income and on your anticipated annual Cost of Living (COL) increases. Results include a year-by-year chart showing your income for each year, the accumulated total, and the future value of saving one dime of every dollar you earn. The $ecret tab includes the real reason the rich get richer.
Learn More
Selected Data Record:
A Data Record is a set of calculator entries that are stored in your web browser's Local Storage. If a Data Record is currently selected in the "Data" tab, this line will list the name you gave to that data record. If no data record is selected, or you have no entries stored for this calculator, the line will display "None".
Data

Data record

Data record

Selected data record

:

None