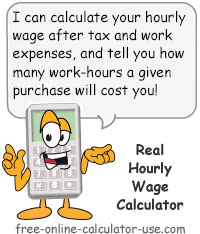 Real Hourly Wage Calculator
Your life is a business just like any other business. And as such, your true net income (profit) from selling one hour of your time, skills and abilities to others is what's left after accounting for all work-related time and expenses. This calculator will not only open your eyes to what your real hourly wage is, but it will also help you to compare the work-related costs and expenses of one prospective job offer with another. The $ecret tab includes:
Why your life IS a business.
The benefits of knowing your RHW.
Learn More
Selected Data Record:
A Data Record is a set of calculator entries that are stored in your web browser's Local Storage. If a Data Record is currently selected in the "Data" tab, this line will list the name you gave to that data record. If no data record is selected, or you have no entries stored for this calculator, the line will display "None".
Data

Data record

Data record

Selected data record

:

None