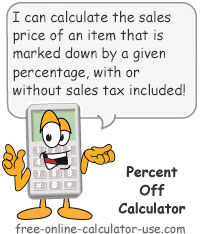 Percent Off Calculator
This discount calculator will calculate the sales price given the original selling price and the percentage markdown. Plus, unlike other discount calculators, this discount calculator includes an option for including sales tax in the calculations. The $ecret tab includes the answer to How 20% Off can cost you 100%.
Learn More
Selected Data Record:
A Data Record is a set of calculator entries that are stored in your web browser's Local Storage. If a Data Record is currently selected in the "Data" tab, this line will list the name you gave to that data record. If no data record is selected, or you have no entries stored for this calculator, the line will display "None".
Data

Data record

Data record

Selected data record

:

None