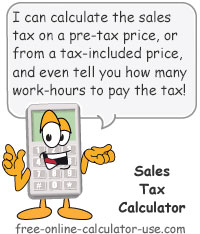 Sales Tax Calculator
This calculator will calculate the sales tax amount on a pretax price, or calculate the sales tax portion of a tax-included price (reverse, or backwards from total). Includes a built-in State Sales Tax Rates look-up feature. Plus, the calculator will even alert you to how many hours you will need to work to pay the sales taxes. The Learn tab includes:
How much sales tax are you paying on your wages?
How to reduce your sales-tax related work-hours.
How to calculate sales tax.
Mini Sales Tax Rate Calculator.
Learn More
Selected Data Record:
A Data Record is a set of calculator entries that are stored in your web browser's Local Storage. If a Data Record is currently selected in the "Data" tab, this line will list the name you gave to that data record. If no data record is selected, or you have no entries stored for this calculator, the line will display "None".
Data

Data record

Data record

Selected data record

:

None
Get the Free App!
For iPhone or Android.