Sales Tax Calculator For Calculating Sales Taxes On Purchases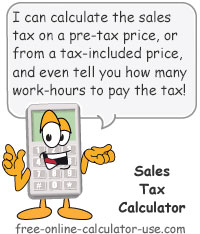 This free online Sales Tax Calculator will calculate the sales taxes on the price of a product or service given a sales tax percentage (price plus tax), and if you want, will also tell you the number of hours you will need to allocate to working in order to pay for those taxes.
Plus, if the price you entered already includes sales taxes, the sale tax calculator will calculate what portion of the price is for the product or service and what portion is for sales taxes (in reverse, or backwards from total).
Of course, if you happen to live in a state that does not collect sales taxes from the businesses you purchase from (see the State Sales Tax Table in the Learn section), then this calculator will not apply to your situation.
If you're not sure what the applicable sales tax rate for your location is, you can look up your state, county and local sales tax rates here (opens in a new window) a limited number of times for free.
Finally, users have also reported using the calculator for figuring out their Ebay and Paypal fees when doing year-end accounting for state and federal taxes, but are missing the commission fees on the invoices.
Read more ...
Also on this page: