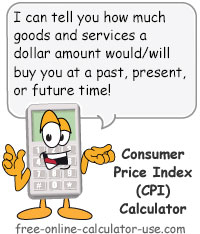 CPI Inflation Calculator
This calculator will calculate the effects of inflation or deflation on a past, present, or future dollar amount. For past calculations the calculator uses the actual US Consumer Price Index, while future calculations are based on your own expected inflation rate. Includes a printer friendly year-by-year report feature for all calculated results. The Learn tab includes:
What is CPI?
Why is the inflation rate important?
What causes the CPI to rise or fall?
Learn More
Selected Data Record:
A Data Record is a set of calculator entries that are stored in your web browser's Local Storage. If a Data Record is currently selected in the "Data" tab, this line will list the name you gave to that data record. If no data record is selected, or you have no entries stored for this calculator, the line will display "None".
Data

Data record

Data record

Selected data record

:

None