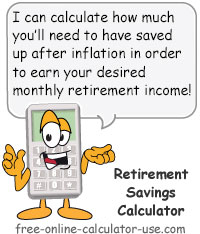 Retirement Income Calculator
This online calculator will estimate how much you will need to have saved by the time you retire in order to meet your monthly income goal -- with and without considering the effects inflation will have on your future buying power. Plus, the calculator will also tell you how much you will need to deposit each month in order to grow your retirement savings to the prescribed balance.
Learn More
Selected Data Record:
A Data Record is a set of calculator entries that are stored in your web browser's Local Storage. If a Data Record is currently selected in the "Data" tab, this line will list the name you gave to that data record. If no data record is selected, or you have no entries stored for this calculator, the line will display "None".
Data

Data record

Data record

Selected data record

:

None