Calculate Retirement Savings Needed To Achieve Your Monthly Income Goal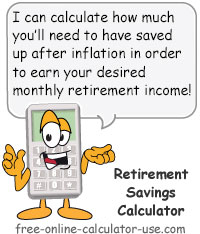 This online calculator will calculate the retirement savings needed to withdraw your desired monthly income for the duration of your life expectancy -- with and without accounting for inflation.
While I agree that ignoring the effects of inflation in financial forecasting will likely fail to achieve expectations, I also believe that building inflation into financial forecasting tools tends to discourage saving and encourage spending.
When people see the difference inflation can make in their future financial condition, I'm willing to bet that many of them get very discouraged. With all of the added sacrifices they will need to make to achieve their future goals, they may decide to spend their money now -- while it's still worth something -- rather than saving it for the future when it will be worth much less.
Yes, the effects of inflation are discouraging. However, in financial forecasting, it's always best to estimate income low and expenses high. Because even more discouraging than seeing the effects inflation has on future savings, is to arrive at your future with no savings at all.
My suggestion is this. Be sure to include inflation in your forecasts, but at the same time recognize that as inflation drives up the costs of goods and services, it also tends to put upward pressure on wages. So while your savings may be losing buying power each year, the chances are good that your wages will also increase, which in turn means you should be able to increase the amount you are adding to your savings. If you want to hit the moon, shoot for the stars.
Read more ...