30 60 90 Triangle Calculator: Solve for Unknown Measurements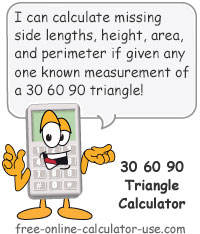 This 30 60 90 Triangle Calculator will find the side lengths, height, area, and perimeter from a single known measurement from a special right triangle having interior angles of 30, 60, and 90 degrees.
Plus, the calculator will also solve for inradius and circumradius while also showing step-by-step how it solved for all measurements from the one provided.
Read more ...