Triangle Calculator to Solve SSS, SAS, SSA, ASA, and AAS Triangles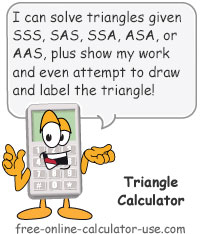 This triangle solver will take three known triangle measurements and solve for the other three.
The calculator will also solve for the area of the triangle, the perimeter, the semi-perimeter, the radius of the circumcircle and the inscribed circle, the medians, and the heights.
Plus, unlike other online triangle calculators, this calculator will show its work by detailing each of the steps it took to solve the formulas for finding the missing values.
Finally, the triangle calculator will also calculate the coordinates of the vertices, the centroid, and the circumcenter, and draw the solved triangle based on those coordinates (requires latest version of your web browser software).
Read more ...