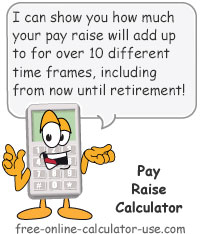 Pay Raise Calculator
This calculator will not only calculate your pay raise or cost of living (COL) raise, but will also translate the raise into every common and not-so-common time period -- including how much the raise will add up to between now and when you plan to retire! The Learn section includes:
How much is a dollar raise annually?
How to calculate pay raise.
How to figure out pay increase percentage.
How much of a raise to ask for?
Who determines your wage?
Learn More
Selected Data Record:
A Data Record is a set of calculator entries that are stored in your web browser's Local Storage. If a Data Record is currently selected in the "Data" tab, this line will list the name you gave to that data record. If no data record is selected, or you have no entries stored for this calculator, the line will display "None".
Data

Data record

Data record

Selected data record

:

None