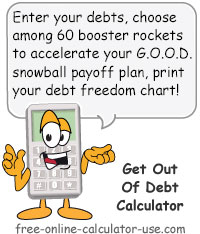 Get Out of Debt Calculator
This comprehensive online calculator not only calculates the amazing time and interest savings from paying off your debts using the snowball method (instead of the bend over method), but also gives you 60 ideas to jet propel the process. You can even choose and compare between 8 different payoff order options. The printer friendly report includes your debt list, your booster rocket list, and your rollover plan payment schedule.
Learn More
Selected Data Record:
A Data Record is a set of calculator entries that are stored in your web browser's Local Storage. If a Data Record is currently selected in the "Data" tab, this line will list the name you gave to that data record. If no data record is selected, or you have no entries stored for this calculator, the line will display "None".
Data

Data record

Data record

Selected data record

:

None