Debt Freedom to Financially Free Calculator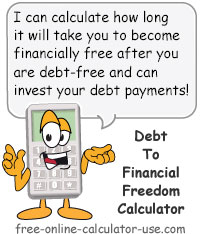 This calculator will calculate how long it will take to become financially free after becoming debt-free.
The idea behind this calculator is that once you manage to pay off all of your debts, including your mortgage, you will then be able to start investing the total of your freed-up debt payments, plus any additional funds you were applying to your debt repayment plan.
This is where you turn the tables on corporations who've been getting rich off of your interest payments. Instead of you being their investment vehicle, they now become your investment vehicles!
But before you use this calculator, you will first need to calculate your total debt payments and estimated debt freedom date. Both of these figures can be arrived at by using one of the following calculators:
In both cases, be sure to include your mortgage in your repayment plan to get the maximum effect.
Read more ...