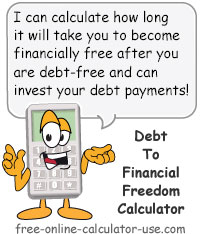 Financial Freedom Calculator
This calculator will calculate how long it will take to become financially free once you manage to pay off all of your debts and can invest your freed-up debt payments. Results include a year-by-year chart showing the growth of your financial freedom account and the corresponding monthly interest income.
Learn More
Selected Data Record:
A Data Record is a set of calculator entries that are stored in your web browser's Local Storage. If a Data Record is currently selected in the "Data" tab, this line will list the name you gave to that data record. If no data record is selected, or you have no entries stored for this calculator, the line will display "None".
Data

Data record

Data record

Selected data record

:

None