Virtual Dice Roll Simulator With Built-in Stats Calculator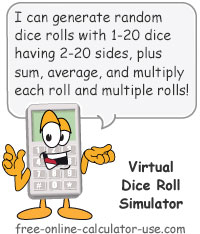 This online dice roller will generate a random dice roll. Dice can range from 2-sided to 20-sided (if the conventional 6-sided dice is selected, the roll will include images of the dice), and the number of dice included in the virtual roll can range from 1 to 20.
Plus, the shake time prior to the roll can be set to a random stop, or to a manual stop.
Also, a built-in dice roll calculator will sum, average, and multiply the rolled dice and keep cumulative totals for a series of rolls.
And finally, you can set the virtual dice roller to display the current roll only, or to display the current roll followed by a history of previous rolls.
Read more ...