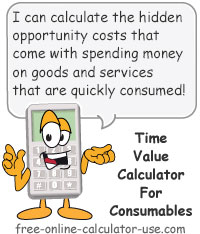 Consumables Time Value of Money Calculator
This calculator will calculate the opportunity costs of regularly spending an amount of money on a consumable product or service (perishable, expendable, etc.). Plus, this calculator will also calculate the reduction in opportunity costs that will occur if you switch from a higher priced consumable (name brand) to a lower priced substitute (generic or store brand). The Learn tab includes:
What is Time Value of Money (TVM)?
Why is understanding TVM so important?
The money value of your time.
Learn More
Selected Data Record:
A Data Record is a set of calculator entries that are stored in your web browser's Local Storage. If a Data Record is currently selected in the "Data" tab, this line will list the name you gave to that data record. If no data record is selected, or you have no entries stored for this calculator, the line will display "None".
Data

Data record

Data record

Selected data record

:

None