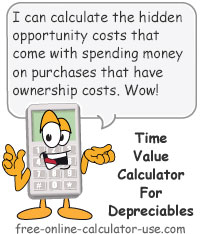 Depreciable Assets TVM Calculator
This calculator will calculate the time and financial opportunity costs of buying and owning goods that lose their value with time and use (depreciating assets), and that may come with one or many ongoing ownership costs. The Learn tab includes:
What is a depreciable asset?
The opportunity cost tsunami.
How to earn hundreds of dollars per hour.
Learn More
Selected Data Record:
A Data Record is a set of calculator entries that are stored in your web browser's Local Storage. If a Data Record is currently selected in the "Data" tab, this line will list the name you gave to that data record. If no data record is selected, or you have no entries stored for this calculator, the line will display "None".
Data

Data record

Data record

Selected data record

:

None