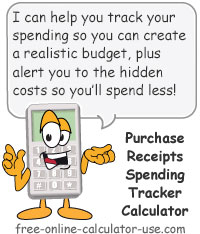 Purchase Receipts Calculator
This calculator will tabulate and categorize your spending from your purchase receipts, plus the printer friendly spending report lists the time and financial opportunity costs for each purchase, category, and sub-category. Even includes a handy feature that enables you to assign sales tax to the purchases and sub-categories that caused them. The Learn tab includes:
The importance of keeping track of spending.
Keeping track of spending the hard way.
An easy system for tracking spending.
Learn More
Selected Data Record:
A Data Record is a set of calculator entries that are stored in your web browser's Local Storage. If a Data Record is currently selected in the "Data" tab, this line will list the name you gave to that data record. If no data record is selected, or you have no entries stored for this calculator, the line will display "None".
Data

Data record

Data record

Selected data record

:

None