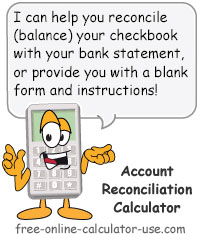 Checking Account Reconciliation Calculator
This calculator will help you to reconcile a bank statement with your checkbook register. Includes an option to print out a completed or blank free bank reconciliation form. The Learn tab includes:
What is account reconciliation?
Why reconcile bank account?
How to balance check book.
Learn More
Selected Data Record:
A Data Record is a set of calculator entries that are stored in your web browser's Local Storage. If a Data Record is currently selected in the "Data" tab, this line will list the name you gave to that data record. If no data record is selected, or you have no entries stored for this calculator, the line will display "None".
Data

Data record

Data record

Selected data record

:

None