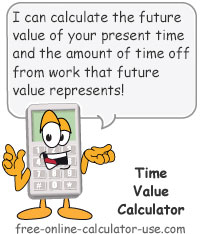 Time Value Calculator
This calculator will calculate how much a block of your present time could be worth in the future if invested instead of wasted, as well as how much discretionary time that future value represents. The Learn tab includes:
What is money is and why it DOES NOT equal profit!
The hidden costs of instant gratification.
Steps to transitioning to a work you love.
Learn More
Selected Data Record:
A Data Record is a set of calculator entries that are stored in your web browser's Local Storage. If a Data Record is currently selected in the "Data" tab, this line will list the name you gave to that data record. If no data record is selected, or you have no entries stored for this calculator, the line will display "None".
Data

Data record

Data record

Selected data record

:

None