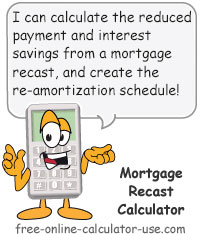 Mortgage Recast Calculator
This calculator will calculate the reduced payment amount and resulting interest savings if your home loan lender secretly offers mortgage recasting (A.K.A, re-amortization). Includes a savings comparison chart and an optional re-amortization schedule. The Learn section includes:
What is a mortgage recast?
Example savings comparison.
Is recasting a good or bad idea?
Learn More
Selected Data Record:
A Data Record is a set of calculator entries that are stored in your web browser's Local Storage. If a Data Record is currently selected in the "Data" tab, this line will list the name you gave to that data record. If no data record is selected, or you have no entries stored for this calculator, the line will display "None".
Data

Data record

Data record

Selected data record

:

None