Baseball Scorekeeper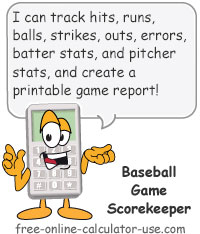 As a parent/grandparent of several baseball and softball players I always wanted to be able to keep track of baseball games whenever our team played in fields that lacked detailed scoreboards.
At one point I purchased a scorekeeper app for my phone, but I was not happy with how it functioned (couldn't subtract hits, runs, etc. once I incremented them). However, it was better than no app at all so I continued to use the score tracker for the remainder of the season.
However, as the baseball season approached, I noticed that my scorekeeping app quit functioning all together. So I thought it was a good time to attempt to make my own scorekeeper application.
The baseball scorekeeper on this page is my first attempt at the mobile web-app version.
Three Levels of Tracking
The baseball scorekeeper was designed to accommodate several levels of tracking. You can either:
Simply track the score.
Track the score, plues the inning, runs, hits, errors, outs, ball, and strikes.
Track all of the above, plus the individual batting and pitching stats for players on both teams.
Please let me know in the feedback form beneath the scorekeeper if you run into any issues while using the it.
Read more ...