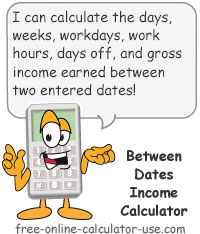 Between Dates Income Calculator
This calculator will calculate the work-related stats between two past, present, or future dates -- including the number of work weeks, workdays, days off, and work hours, plus estimate the gross wages earned for the selected time span.
Learn More
Selected Data Record:
A Data Record is a set of calculator entries that are stored in your web browser's Local Storage. If a Data Record is currently selected in the "Data" tab, this line will list the name you gave to that data record. If no data record is selected, or you have no entries stored for this calculator, the line will display "None".
Data

Data record

Data record

Selected data record

:

None