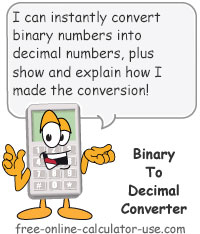 Binary to Decimal Converter
This converter will instantly convert a base 2 number into its base 10 equivalent, plus display an interactive binary to decimal conversion chart showing how the converter computed the answer. The Learn tab includes:
What is a binary number?
How to convert binary to decimal.
How to convert a binary having a decimal point.
Learn More
Selected Data Record:
A Data Record is a set of calculator entries that are stored in your web browser's Local Storage. If a Data Record is currently selected in the "Data" tab, this line will list the name you gave to that data record. If no data record is selected, or you have no entries stored for this calculator, the line will display "None".
Data

Data record

Data record

Selected data record

:

None