Blank Time Sheet Creator: Make a Timesheet Online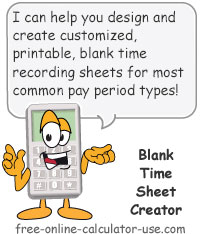 Are you wasting valuable time creating and dating time sheets for your employees by hand?
If so, then you'll love the timesheet creator on this page.
This free timesheet generator was created as an extension to the popular weekly and biweekly time sheet/card/clock calculators in this section.
Now, in addition to quickly totaling up employee hours and wages, you can also design printable time sheets that coincide with the time calculator you use.
The blank timesheet maker includes the following features:
Can accommodate weekly, biweekly, semi-monthly, or monthly pay periods, with 1, 2, or 3 IN/OUT columns.
Option to include day names and dates for each day in the pay period -- each with formatting options, as well as an option to enter employee name.
140 colors to choose from for headings, sub-headings, text, backgrounds, and fonts, and changes to the design occur instantly on the preview.
Read more ...