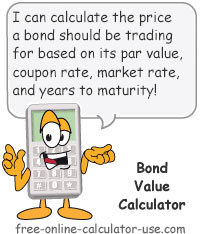 Bond Value Calculator
This investing calculator will calculate the expected trading price of a bond given the par value, coupon rate, market rate, and years-to-maturity, and show its work. The Learn tab includes brief answers to:
How to calculate the value of a bond.
Why do bond prices change?
Why do bond prices and interest rates move in opposite directions?
Learn More
Selected Data Record:
A Data Record is a set of calculator entries that are stored in your web browser's Local Storage. If a Data Record is currently selected in the "Data" tab, this line will list the name you gave to that data record. If no data record is selected, or you have no entries stored for this calculator, the line will display "None".
Data

Data record

Data record

Selected data record

:

None