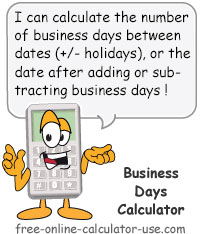 Business Day Calculator
This free online business days calculator will instantly calculate the number of business days between two dates, or calculate a past or present date by adding or subtracting a specified number of working days to or from a starting date.
Includes built-in holiday date calculations to exclude holidays of your choosing. Plus you can even choose which days of the week you want the calculator to count -- which opens up the calculator for other interesting uses!
Learn More
Selected Data Record:
A Data Record is a set of calculator entries that are stored in your web browser's Local Storage. If a Data Record is currently selected in the "Data" tab, this line will list the name you gave to that data record. If no data record is selected, or you have no entries stored for this calculator, the line will display "None".
Data

Data record

Data record

Selected data record

:

None