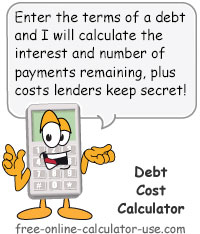 Cost of Debt Calculator
This calculator will calculate the cost of a debt in terms of the interest you could be earning on the interest charges you are paying. The results also include the opportunity costs of the purchase that created the debt in the first place, as well as a payment-by-payment interest paying versus earning comparison chart. The Learn tab includes:
What are Opportunity Costs?
Tangible opportunity costs of buying on credit.
Intangible opportunity costs of buying on credit.
Learn More
Selected Data Record:
A Data Record is a set of calculator entries that are stored in your web browser's Local Storage. If a Data Record is currently selected in the "Data" tab, this line will list the name you gave to that data record. If no data record is selected, or you have no entries stored for this calculator, the line will display "None".
Data

Data record

Data record

Selected data record

:

None