Calculate Life Expectancy According to the IRS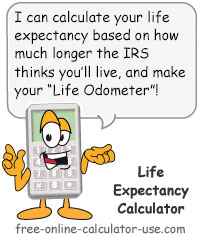 This calculator will calculate life expectancy based on how long the IRS is betting you will live, and then display your "Life Odometer" based on that result.
The calculator is based on Table I from IRS Publication 590-B (2021), which is one of three IRS tables used to determine Required Minimum Distributions (RMDs) for qualifying retirement plans (IRAs, 401ks, etc.).
And since I'm using these tables to create other calculators in this section, I thought I would put Table I into a free-standing calculator -- just in case you're interested in seeing how long the IRS is betting you will live.
Please keep in mind that the IRS uses actuarial averages, i.e., they don't account for your specific gender, health habits, or family genes, so don't rush out and make your funeral arrangements for the year this calculator spits out. It is for amusement purposes only!
Read more ...