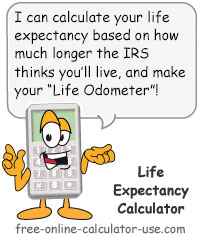 IRS Life Expectancy Calculator
This calculator uses the Single Life Expectancy Table from IRS Publication 590-B to calculate how many years you have left to live. The results also include the age and calendar year you are expected to live until, plus your resulting Life Odometer.
Learn More
Selected Data Record:
A Data Record is a set of calculator entries that are stored in your web browser's Local Storage. If a Data Record is currently selected in the "Data" tab, this line will list the name you gave to that data record. If no data record is selected, or you have no entries stored for this calculator, the line will display "None".
Data

Data record

Data record

Selected data record

:

None