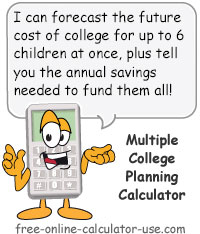 College Planning Calculator
This calculator will help you to formulate a college funding plan for all of your children at one time. Enter your own cost estimates or choose one of the four built-in college types and the costs will be filled in for you based on a recent college cost survey. Results include a year-by-year forecast of the inflated annual cost for each child, as well as a combined year-by-year saving, income, and expense summary.
Learn More
Selected Data Record:
A Data Record is a set of calculator entries that are stored in your web browser's Local Storage. If a Data Record is currently selected in the "Data" tab, this line will list the name you gave to that data record. If no data record is selected, or you have no entries stored for this calculator, the line will display "None".
Data

Data record

Data record

Selected data record

:

None